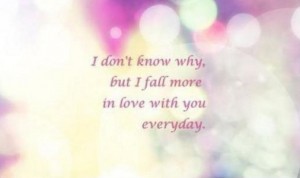 I don't know why you chose me.
I'm just glad that you did.
You brought light to my heart,
When there was only dark.
You made me want to be better,
So I would never hurt you.
I don't know why you tolerate me,
You know I'm stubborn and swine-headed.
But you never block my path to walk,
Merely steer me from the ditches.
Let me traverse the potholes
But lift me should they prove too deep.
I don't know why you love me
I have no cause to doubt you.
I'm staggered by your belief in me,
Your support is overwhelming.
And though you know I'm strong enough
You still endeavour to protect me.
I don't know why you love me,
But I am blessed, so blessed, that you do.
You are my perfect companion.
You support not suffocate, smother, nor stifle.
You protect not patronise, pander, nor placate.
You love me and every day I'm still surprised.
I know why I love you, my sweet,
My heart knew you from the first
I've never doubted your heart, my love,
I hope you've never doubted mine
I don't know why you love me, honey,
But I love you back with all my soul.