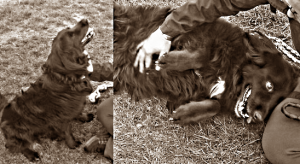 I miss my dog. Because we had to make the trip over here quickly, we were not able to bring our sweetie with us. We did find her a good home, with my cousins, where they spoil her far more than J and I ever did (and I admit we spoiled her). I still miss her.
I know she would not like it here, it is too hot and she is old, black and hairy, but I would love to give her cuddles, throw treats and have her lay by my side when I am feeling rough. Sad as it may seem, I miss talking to her. Okay, I will admit that I was essentially talking to myself but having a pet to talk to when alone in the house makes me feel slightly less mad. She gave the impression she was listening with the slight cock of her head and slow blinks and winks.
It is amazing how a pet, especially a dog I think, can become a family member and a "person" in his or her own right.