I get bored quite easily and when that happens I switch my focus. Hell the only reason this blog is still going, and I've started another one, is because there is such a variety of subjects to talk about.
I have my 'Blackwork in Blue' project and it's a wee bit stalled at the moment. I had problems with my eyesight for a while before Christmas and any prolonged stitching periods gave me unimaginable headaches and a few migraines. I bought new specs and I was good again but I didn't pick it back up, instead I picked up another project that I've been working on throughout the year.
I'm a big fan of Nora Corbett's Mirabilia cross stitch designs because they are, in a word, gorgeous. Go and have a look at her vast collection of designs here http://www.mirabilia.com/ and I dare you to not want to stitch. Anyway I'm a big fan but the larger designs are very time intensive and you can get fed up if you don't feel like you're getting anywhere. The one below I finished a few years ago and it took me 2 years, in between working and the rest of life. I've meant to have it framed for a long time but I've never got around to it and now I shall wait until my current project is finished and have them framed to match.
This is the Rose of Sharon but I'm afraid my photography doesn't do it justice.  My current project is from the same series of patterns and is called Damask Roses (right).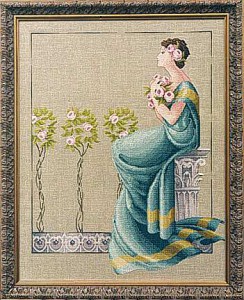 It's a long road to completion yet as you can see from the photo below. You can see in both pictures there are large swathes of 'one' colour and to be quite frank that can be incredibly boring.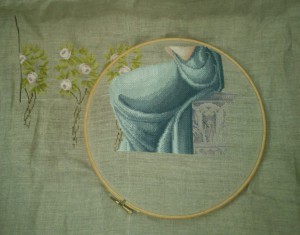 This constitutes nearly a month of solid work, doesn't seem much, does it? Perhaps it will put things into perspective if I tell you that the hoop is 10.5″ in diameter.
These large projects are the reason I can't just do one at a time and have several projects on the go at once.
I few projects that I've worked on over the past year or so are below;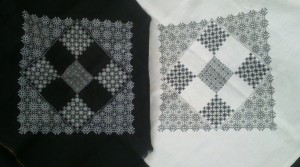 These will be two cushion covers when I find some fabric with a soft nap to it. One side Black/white work and the other side furry. The furry side will match the colour of the stitches.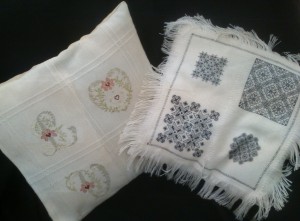 These are two cushions, that currently live on our sofa, the black & white one is supposed to be on the spare bed but it's far more useful in the lounge at the moment.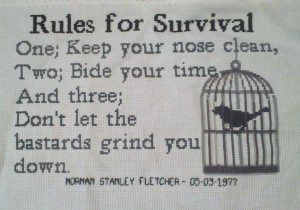 I'm officially a big softee so when my hubby asked me to, I did this for him. If you aren't familiar with Norman Stanley Fletcher click the link and you will have everything you wanted to know.
There are a series of other projects that have been done, a coaster for my other half, a Christmas cushion for my neighbour (in Greek too), and a fair amount of white on white (which doesn't photograph well at all).
I like little projects that I can do in a day or even half a day when a large project is feeling overwhelming and taking forever to get anywhere.
The pictures above ranged from large projects (the blackwork in negative) to small (rules for survival). but flicking between stitching styles and colour schemes does help to break things up a bit. I gives m eyes, brain and fingers a rest. I tend to stab myself more often when using blackwork techniques than just standard cross-stitch.