An article on the Guardian website today has made me chuckle. Why does fashion ignore big breasts?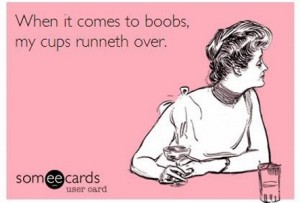 Any item of clothing that can be termed 'in fashion' was probably created by a designer to clothe the frame of a fashion model. Fashion models are not known for their abundant breasts. High street stores takes their cues from fashion designers and create their size templates with a 'one size fits all' mentality around breasts. It's a bit of a blind spot, considering that there are as many different bust sizes as there are dress sizes. It's a cost thing, it is far too expensive to create, in bulk, items that will fit every conceivable body type. It's just not fiscally viable for a company to do so. I have given up on fashion, I wear what suits me. If this means raiding a decade old wardrobe stash, or a charity shop, so be it.
I love my boobs, so does my hubby, but I hate that I can't find clothes to fit. I have a big bust (last measured at 46") compared to a comparatively small waist (36") and smaller hips (44"). We've already established that I'm fat, so we'll pass that part of the conversation. This distinct difference between my measurements has been fairly consistent since I filled out as a teenager, so being overweight isn't the issue here.
My primary issue is that to wear a dress I have to be reasonably adept with a sewing machine. Have a look at the size charts on any women's clothing website and check the difference between the hip and bust measurements. My measurements look like I'm upside down. On no size chart ever is the bust measurement bigger than the hips. Oh how I would love to walk into a shop, confident in the knowledge that if I pick up a dress in my size it will fit. In every single shop or website I visit I have a three (or sometimes even four) size disparity between the three measurements.
I'm getting better with the sewing machine, but I'm not brilliant, it's a knackered, second-hand thing that squeaks perpetually, and I'm definitely not confident enough to wear my creations out in public. I have to cut the patterns to fit my boobs (sometimes racking up there at a size 24, pun intended) and then scale it down once I've tacked the damn thing together. At the finish point I end up with a size 22/24 bust, 18/20 waist and a 16/18 in the hips. You could say I am pear-shaped, but only if the pear can balance on its tip.
My problem doesn't end with dresses, I also have to address the bra issue. Oh the agony of trying to find a bra to fit, on an island of tiny people. Only 1 store (thank goodness for Damart) carries my size as standard (I'm a G/GG cup) and even places like Debenhams and M&S, which in the UK would usually carry my size, don't. There is an abundance of lingerie shops on the island but the maximum cup size in any of them is an E. I was an E cup at 16! I left school at 18 with a 28" waist and F-cup boobs, not much chance of me getting back to that again (I'm not daft). I have recently resorted to finding bras in the UK and getting my mom to send them to me.
With my weight loss, reducing my bust quicker than anywhere else (down 8cm now), I'm approaching the "hourglass" as opposed to the inverted triangle, but I am still struggling to find things to wear without mucking about with taking the smaller bits in.
I have reached the conclusion that anything I buy 'off-the-peg' will be "some assembly required". Otherwise, I shall have to ensure that I improve my skill with the sewing machine.
I'm actually considering approaching one of the many tailors and dressmakers in my locality, to see how much it would cost to have some good quality items made for me. It has the advantage of me being able to choose the styles and fabrics that suit me, rather than relying on what fashion dictates is 'in season'.